1
Developing the ability to look ahead to future products
――Students will understand manufacturing through practical training that implements design, design verification, process establishment, and product trial production and evaluation in an integrated manner.
01-1. Fabrication of GaN transistors for power conversion and their application to inverter circuits
I learned not only theoretical knowledge but also acquired the ability to solve challenges and problems faced in trial production.
CAI Wentao, DII 1st-batch student, Majoring in Electronics
In order to achieve a higher power conversion efficiency, a new material, Gallium Nitride (GaN), is considered as the candidate for the next-generation power device. Due to its material properties, GaN could provide much more superior properties than silicon, such as high breakdown voltage, small system size, and stable operation in a severe environment such as high temperature.
In this practical training in product development, the basic process of fabrication of GaN MOSFET (Metal-Oxide-Semiconductor Field-Effect Transistor), evaluation methods, and the circuit design of a GaN inverter were studied and experienced.
The process of the full structure of GaN MOSFET is completed and challenged for our team, while most of the team members are coming from other majors.
We learned not just the knowledge of the theory, but also the challenges in the trial production and the ability to solve problems. Such experience provided a brand-new point of view to semiconductor majors.
---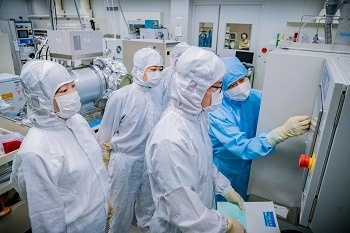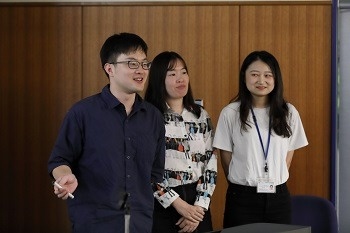 ---
01-2. Development of hang glider models using the approach of digital manufacturing, and practical training in controlling them
---
I experienced the joy of engineering and thought about innovative products.
TSURIMOTO Koki, DII 1st-batch student, Majoring in Electronics
We made a flying robot that can glide long distances via attitude control. An IC calculates the attitude of the airframe in flight based on 9-axis sensor data from acceleration, gyroscope, and magnetometer sensors. The calculation is then used to operate the tail unit via a servo motor to control the airframe and ensure that it remains straight and horizontal in the direction of travel. The flying robot constantly maintains the proper attitude via feedback control at all times, enabling it to glide long distances. The structures of the main wings and nose cone were designed with 3D CAD and made by printing them with a 3D printer.
Although my major is electronics and I have little knowledge of aeronautical engineering, I actively worked on the project because I believe that gaining experience in different fields is also very important for product development. Because the production period was short and the design could not be sufficiently optimized, the flight tests for the airframe did not achieve a sufficient glide distance. Still, I not only had valuable opportunities to learn how to use 3D CAD and 3D printers and to learn design methods but also experienced the joy of engineering through the experience of struggling in a completely different field and making a product while also making mistakes. I also thought about what makes products innovative.
---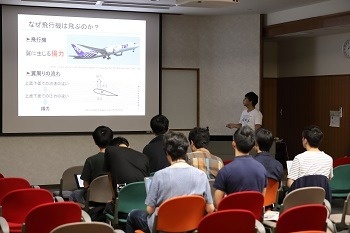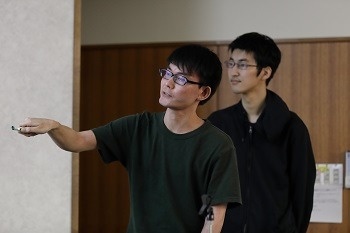 ---
01-3. Development of IoT sensors equipped with energy harvesting devices
---
What I learned by making a product that actually works
FUKUSHIMA Gaku, DII 1st-batch student, Majoring in Aerospace Engineering
We learned about energy harvesting, a technology that converts various familiar forms of energy, such as sunlight and vibrations, into electrical power, and produced a hybrid solar cell module with organic and inorganic materials. While the majors of all four members of my group were different and we were struggling to learn about a new field, we cooperated and shared knowledge with each other. At the same time, all members evaluated the measurement capabilities of the solar cell driven IoT sensor and estimated its power consumption from different perspectives to quantitatively determine the efficiency and area necessary for the solar cells driving the sensor.
n this practical training, the collaboration of people with specialized knowledge allowed us to successfully operate our own product, but we aim to create unprecedented new products using a variety of research seeds in the future. The experience of cooperating with people who are excellent in fields other than mine, the skill to determine the specifications required for each of the components for a final product through quantitative examinations, and the experience to combine components as a system and make it run as a product, which were cultivated in the practical training in product development, are valuable things that I could not achieve in a student life devoted only to research. I am confident that they will be great advantages for me in my future activities.
---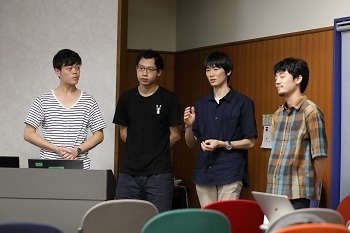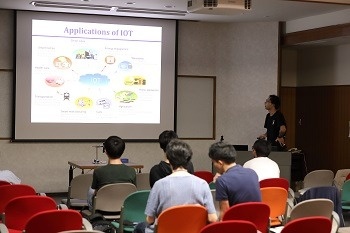 ---